ITC Royal Bengal, Kolkata
Get the flavor of the state by having your function at The Bengal State. This 16,468 sq. feet banquet and dimensions of 197*84*25, this place offers the best of the old world charm.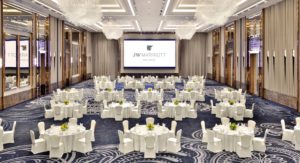 J.W. Marriott, Kolkata
Why not make it grand……is a question you wi
ll ask yourself, when you see the 13,499 sq. feet large Grand Ballroom. This pillar-less venue boasts of 178*76*32 dimensions that make it possible to make the event a blockbuster.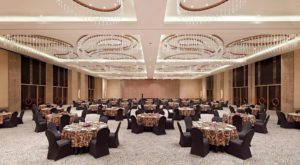 The Westin Rajarhat, Kolkata
The Westin Rajarhat, a modern conventional hotel offers you, the Grand Ballroom which is exactly what you need to organize an impressive event. It is 13,186 feet sq. large with 141*95*23 dimensions that help you put together an event you want.
Kiranshree Grand, Guwahati
Laurel, the banquet of this 5 star boasts of 9,000 sq. feet space. The pillar-less banquet gives more room to make suitable arrangements as per the event.

Vedic Village, Kolkata
Amongst gardens and fountains, this upscale spa resort, offers you a pillar-less banquet, Imperial which is all of 8,400 sq. feet. It is a large space to welcome many footfalls.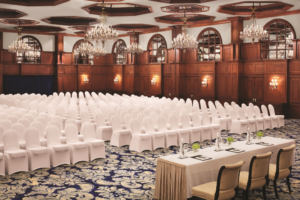 Taj Bengal, Kolkata
The 7,179 sq. feet banquet Crystal Hall at the statuesque Taj Bengal, boasts of 88*59*13 dimensions. It is the perfect hall to hold memorable functions and get-togethers.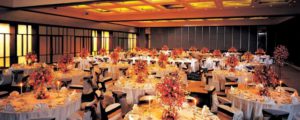 ITC Sonar, Kolkata
The pillar-less banquet of this grand and monumental hotel, Pala is 6,996 sq. feet large. It makes a perfect place to hold concise seminars, workshops and such other functions.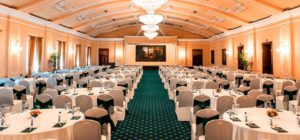 The Oberoi Grand, Kolkata
Hold an incredible event at the Grand Ballroom of The Oberoi Grand. The 6,500 sq. feet worth of space at this luxury hotel, ensure that you have a superb event.  It has 108*60*19.02 dimensions that gives you room, to make your own arrangement.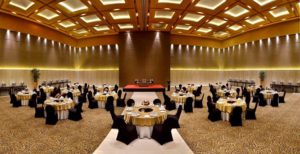 The Lalit Great Eastern, Kolkata
The Great Ballroom at the Lalit, is a banquet that boasts of 6,500 sq. feet space. This pillar-less venue gives a lot of room to make suitable arrangements, as per the event.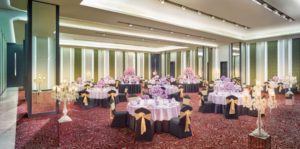 Vivanta by Taj, Kolkata
The banquet Joysagar at the Vivanta by Taj, is meant to give joy to everyone who has their event held there. It is a 6,232 sq. feet hall with 98*295 dimensions, which are ideal for compact gatherings.