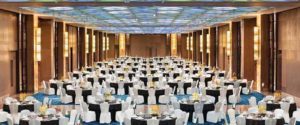 The Leela Ambience Convention, Delhi
Want to host the perfect event? Why not hold one at the Grand Sapphire? One of the biggest pillar-less venues in North India, the 24,497 sq. feet banquet located in the Capital, ticks many boxes. This could be the next place for your upcoming event.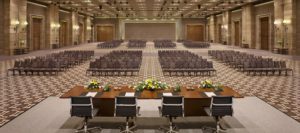 Hyatt Regency, Gurgaon
The Regency Ballroom at the Hyatt Regency Gurgaon, is all of 20,710 sq. feet. The floor space gives you enough area to organize your functions as per your needs. Being pillar-less, it affords the easy space to design the floor plan.
Hyatt Regency, Gurgaon
Yet another astounding venue at the Hyatt Regency, the Regency Ballroom 2&3 with a floor space of 15,053 sq. feet gives you a spacious and airy feel. It helps put together many memorable functions with aplomb and élan.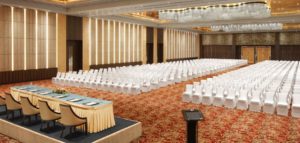 Taj Hotel and Convention Centre, Agra
Set up an event that will long be remembered, in the city of immortal love, Agra…the Mansion banquet at this luxury hotel boasts of 14,014 sq. feet area which is pretty impressive.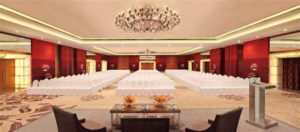 The Leela Ambience Gurugram Hotel & Residences, Gurgaon
The Pearl Ballroom of 9,200 sq. feet is ideal for an event that is concise. It is large enough to give space and perfect for a theme driven, personality/corporate workshop, corporate events, etc. It is also the banquet of choice for those who want to host a large family gathering.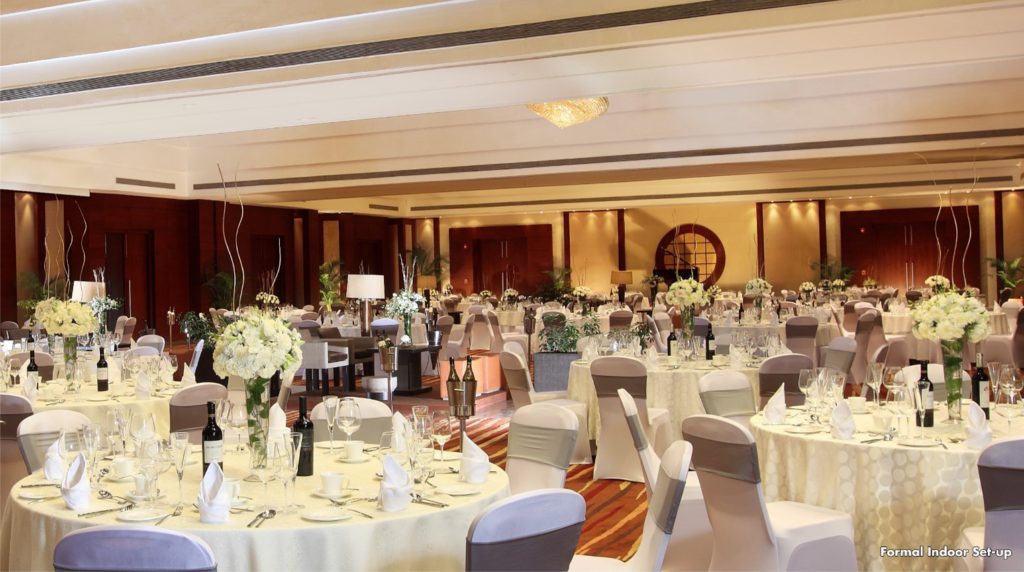 Jaypee Greens Golf and Spa, Noida
On 4 hectares of lush grounds, this upscale golf and spa resort offers The Royal Ballroom. This 5 star property is sought after for its 12,290 sq. feet floor space. Organize events and function where you expect many footfalls.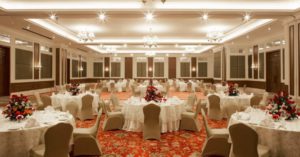 Taj Ganges, Varanasi
This urbane luxurious Taj property, offers you, the Durbar Hall of 7,616 sq. feet which seems to be, just perfect for corporate as well as family gatherings. Being pillar-less, it gives you enough space to create a sterling function.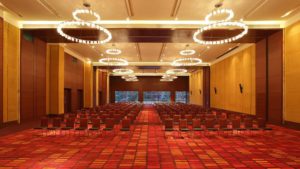 Hyatt Regency, Chandigarh
Regency Ballroom at the Hyatt Regency Chandigarh, offers you an event space of 8,711 sq. feet, lending its perfect ambience and feeling of spaciousness to any event that is organized there.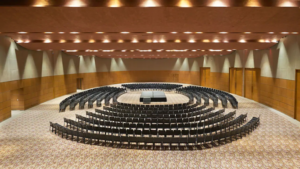 The Andaz, New Delhi
The 10,721 sq. feet Ballroom banquet at this polished, modern, concept luxury hotel gives your entire event a new 'Andaz'. Set up a function with a cool twist which will long be remembered.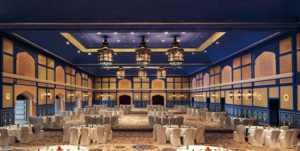 The Fairmont, Jaipur
The Grand Ballroom at the Fairmont, is an experience of 10,678 sq. feet! It is just right to have a special and intimate event or big and grand affair. From an award function, an exhibition to corporate training this banquet lends itself to the entire spectrum of events.